BOSS Revolution Cheap Calls can be bought here at BetterUseBoss.com your #1 online BOSS Revolution Retailer near you. Our online store is opened 24/7 so that you can buy BOSS Revolution Cheap Calls to make international phone calls to friends and family back home.
Our PIN-less calling service allows you to make CHEAP international calls to more than 160 countries worldwide, to include the Caribbean, Asian Pacific & Central America.
We also provide the EASIEST way to send top up to international mobile numbers for over 150 mobile carriers in more than 90 countries worldwide. Likewise, you can also recharge all domestic prepaid mobile phones in the United States.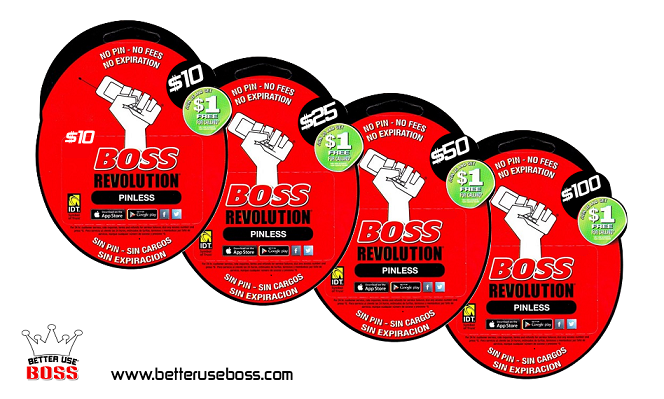 Why Buy BOSS Revolution Cheap Calls
BetterUseBoss.com gives you the BEST of both worlds... We offer you the same quality products & services and all discount and promotional offers given by BOSS Revolution® PLUS our own additional perks and daily promotional savings. So, you'll always be able to make cheaper international calls at ridiculously low rates.
It's a Win-Win Situation For You
When you sign up for an account, you join millions of satisfied customers who make cheap international calls to friends and family back home. You can also share calling minutes with friends and family from your mobile app using BOSS Share. And your minutes never expire. THEY ARE FOREVER!
BOSS Revolution cheap calls gives clear conversation & longer talk time
BOSS Revolution Cheap Calls gives you crystal clear call quality at incredibly low rates with hassle-free pin-less calling through our mobile app. With our pin-less mobile app, you can simply dial any international number from your smart phone just like making a local call. You choose the person that you want to talk to, and talk.