BOSS Revolution cheap calls allows everyone to make call with BOSS International calling cards worldwide to the Caribbean, Africa, Asia, Europe, Australia & the Americas. Join millions of satisfied customers receiving amazing voice quality, regardless of the phone you are calling from.
How to Retrieve BOSS Revolution PIN number
To redeem the PIN number from your card, Dial 1-716-271-2677 and Press *0. Then, Enter PIN #. Add international call time to any phone plan with BOSS Revolution.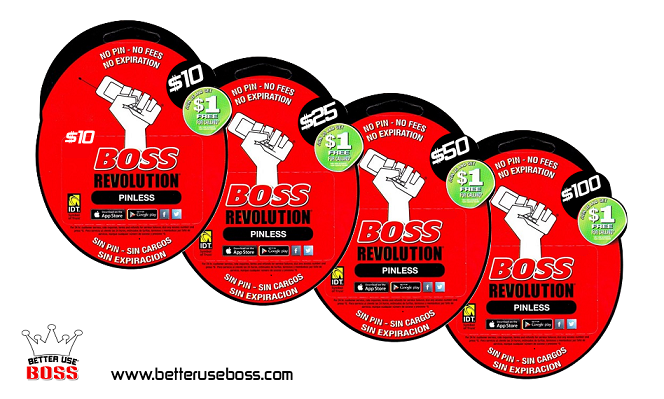 How to Make International Calls Using BOSS Revolution access number
Make international calls from USA to any country worldwide using the following steps:
1. Choose a local access number in your preferred language and dial. Listen and follow the vice prompts.
2. Enter the international number you would like to call (full international format. ie. country code + area code + local phone number)
3. Dial the country code (For example, dial 39 if you're calling Italy or 33 for France).
4. Do NOT enter any key followed by the phone number. Your call will be begin to ring.
=>> See list of country calling codes
Select the access number in the language you prefer
English: 716-271-1616
Creole: 716-271-0770
French: 716-271-0810
Spanish: 716-271-7171
Arabic: 716-271-0830
Amharic: 716-271-0850
How to Make International calls using BOSS Revolution app
To make international calls with BOSS Revolution mobile app, 1st you must have the app installed on your smartphone. Download below:




After you have downloaded and installed the app, open up the app then dial the international number you would like to call. Make sure that your number is entered in full international format. Once you have entered your number correctly, press the Send button and your call will be connected.